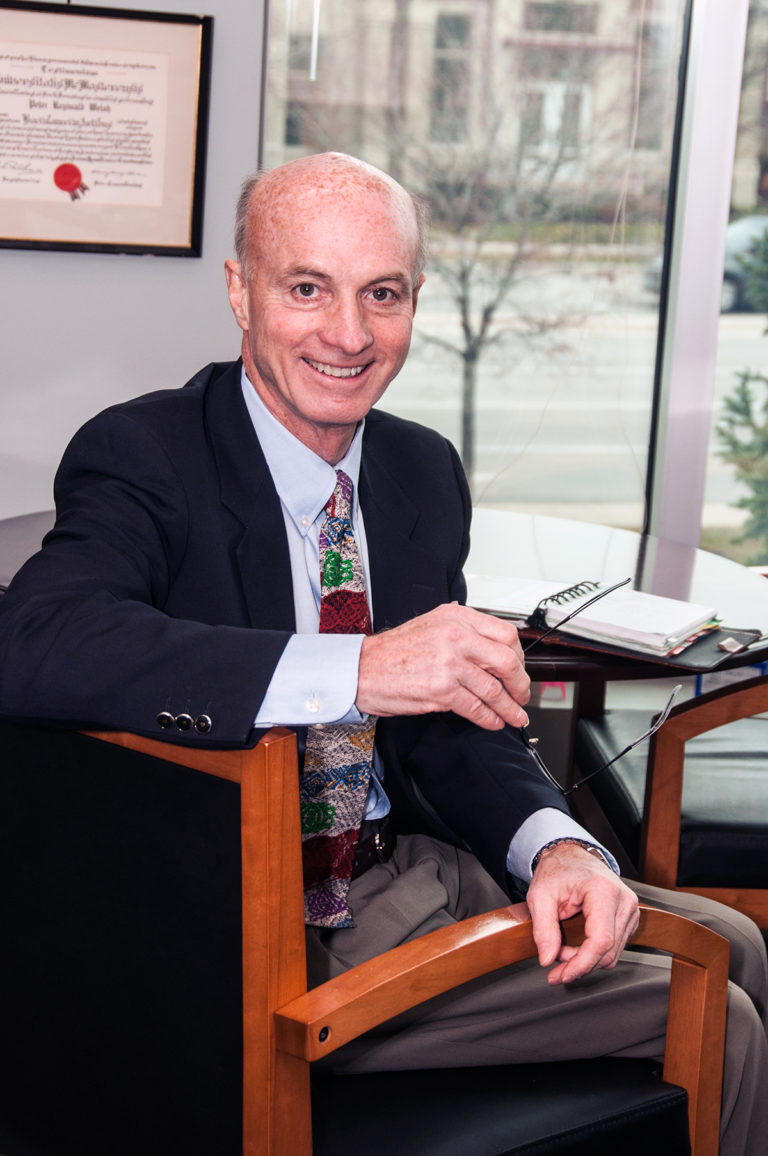 Peter R. Welsh, B.A., LLB, M.B.A.
Barrister and Solicitor
For nearly 40 years, Peter R. Welsh has practiced Corporate and Commercial Law both on behalf of some of Canada's largest financial institutions, real estate developers and publicly listed Corporations as well as in the representation of entrepreneurial, owner-managed companies, independent businesses, associations and individuals.
His practice is devoted to Business Law, encompassing business start-up, financial services, real estate, succession and estate planning, restructuring and commercial transactions.
Peter's particular focus is the business side of law, devising preventative strategies and solutions to avoid or lessen the risk, resolve crises and achieve management and corporate objectives.
Peter brings to his clients the wisdom of experience and his resources as a skillful negotiator with an attention to detail.
When a crisis occurs or a business opportunity arises, we bring to your interests both a results-oriented approach and unique and ready access to a vast network of related professional resources affiliated to our practice through Peter's 4 decades of involvement directly in the Toronto local legal and business community.
Prior to establishing his Oakville Principal Office, Peter was a consultant to or Partner in several of the largest legal firms in Canada and maintains relationships with widely recognized experts in various specialized areas of the practice of law.
Peter R. Welsh holds a Bachelor of Arts (Economics) degree from McMaster University, 1969 and a Bachelor of Laws degree from University of New Brunswick, 1972. Following his call to the Bar in New Brunswick, he practiced Corporate and Commercial law with Hanson, Hashey & Scott in Frederiction, NB. Returning to Ontario, he graduated from the University of Western Ontario Ivy School of Business with a Masters degree in Business Administration in 1975 and immediately joined The Cadillac Fairview Corporation as Associate General Counsel until returning to private practice in Ontario in Business Law with Aylesworth Thompson (later Aylesworth LLP and, now, Dickinson Wright LLP) in 1978. Peter has authored material on Franchise Law published by Canada Law Book and has lectured on matters as diverse as directors' and officers' responsibilities and liabilities in Canada, enforcement of creditor rights and succession planning for entrepreneurial businesses, governance and financial restructuring.
EDUCATION:
Bachelor of Arts (Economics), 1969, McMaster University
Bachelor of Laws, 1972, University of New Brunswick
Master of Business Administration, 1975, University of Western Ontario
CURRENT COUNSEL AFFILIATIONS:
In Association with Feltmate Delibato Heagle LLP, Halton's business law firm
RD Law, Mississauga Commercial Litigation Specialist
FORMER EXPERIENCE:
Partner – Morris Rose Ledgett
Consultant – Bennett Jones
Consultant – Fraser Milner Casgrain (now, Denton's)
Partner – Lyons Goodman
Associate General Counsel, The Cadillac Fairview Corporation
Lecturer – George Brown and Seneca Colleges of Applied Arts and Sciences
Special Advisor – Minister of Consumer and Corporate Affairs, Ottawa
MEMBERSHIPS:
Law Society of Upper Canada
Halton County Law Association
Oakville Chamber of Commerce
Estate Planners' Council of Halton
Honorary Lifetime Membership, The Boulevard Club Limited (Past President and Director)
ClubLink