Minute Books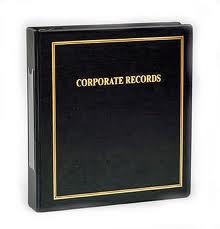 I'm going to try this message again. For whatever reason the importance of the maintenance of the minute books for corporations just does not seem to get to any level of importance among all of the other demands most businesspersons operating as a corporate entity fully appreciates.
Government Requirements
First, it is the law of the Province of Ontario that there must be annual Resolutions of the directors and of the shareholders of each corporation. There is no exemption for the fact that the corporation may only have one shareholder or that it is a family corporation. The rules apply to every corporation. Every corporation must have annual directors' and shareholders' Resolutions.
Next, every corporation is required to maintain financial statements. Obviously, the financial statements are the foundation for income tax returns. As we all know, corporation income tax returns must be filed annually.
Further, there are additional minimum annual requirements: you must elect directors annually (there is a potential exemption for directors elected for a maximum of 3 years). You must have an appointment of an auditor or accountant by the shareholders annually. If you wish to exempt the corporation from the requirements of an audit, that must be done annually by the shareholders. Any dividends declared by the corporation within the fiscal year must also be recorded.
Here's the Tax Issue
The message is simple: the income tax payable by a recipient of a dividend is significantly less than the income tax on other earned income by the same taxpayer. Obviously Canada Revenue Agency wishes confirmation of why it is receiving a lesser amount of tax as the result of a recipient receiving dividends rather than income. If there is not correlation between the corporation's minutes and what the taxpayer or shareholder records, that inconsistency will give rise to an assessment.
An abundance of corporations are created by merely the filing, whether online or otherwise, of Articles of Incorporation. It seems the expectation is that just this step ends the requirements to carry on business as a corporation in compliance with Ontario regulations.
Quite the contrary, that only begins the obligation to maintain proper books and records within the corporate entity, to prepare appropriate financial statements, to hold annual shareholders' and directors' meetings, to pass annual directors' and shareholders' Resolutions or minutes of meetings and to properly file income tax returns.
It seems the assumption is that once incorporated, there is nothing further to do. Quite the contrary. Once a corporation is incorporated, it is a separate entity for tax purposes and for business purposes. The benefit of being incorporated includes elimination of personal liability. However, on the other side, in order to continue to enjoy exemption from personal liability, all activities within the corporation must only be conducted within the corporation but also that all activities conducted within the corporation are recorded. Otherwise, personal liability will result.
It is not surprising to wish to avoid the annual legal costs to update the minute book. Indeed, it is probably possible to avoid governmental sanctions for failing to do so for maybe 2 or 3 years.
All of that comes to a crashing halt in the event of an audit by either the Provincial or Federal government authorities. Then there is a mad dash to do what should have been done and often times the labour and time commitment to correct what should have been done exceeds the amount of time and costs had it been done properly in the ordinary course.
We strongly encourage our clients to elevate the importance of their minute books and their corporate records. We well understand that many clients prefer to gamble against the prospect of any governmental inquiry. We are also equipped to handle those last moment "crash" events.
But the departing message must be that once you have engaged in a corporate entity for obvious business and personal liability exemption reasons, the "shield" that you have created also must be sustained and there is a cost to do that. That cost, in our experience, is significantly less than the cost, in terms of actual cash and management time, if you fall behind.
We would be most pleased to speak with you about the maintenance of your corporate records and how we can assist you to avoid that "crash".